Baywarten
is a town and municipality in
Etusk
district,
New North Wales
. It's about 13 km (8 mi) from
Treien
and generally borders the city. It is part of the Treien-South
Maine
-North NNW conurbation. It's population is 40,611 in
Census 2011
, risen to 42,530 in 2015.
It is known as the 'city of media' due to ICE Network and some other public media-broadcasters being located there. It also competes with Banning, Seblo as many media, music and film industries are based there as well.
Baywarten is twinned with Hilversum in the Netherlands, Elstree in the UK and Roseville in Australia. It's also a part of the Treien Commuter Belt.
Geography
Edit
Baywarten is on a small peninsula between the southern suburbs of Treien, the British Sea, and Hudston Bay. The M42 bypasses the town.
Transportation
Edit
The M42 passes the town with one junction. The R52 which starts at Baywarten and finishes in Ostrobia Beigen, Alnet also serve the southern sections of the town and joins the M42 at Baywarten.
The South Western Mainline and High Speed Two passes the town. There is only one station serving Baywarten, Baywarten Railway Station served by Southwestern Domestic which runs services to Treien Hamlewood. The nearest Treien Orbital Railway station is Hornchurch Park in Northern Baywarten, at the border with the Ostrobian Federal Territory and New North Wales, serving Hornchurch Park. The nearest Metrolink station is Ysytina in the Ostrobia line. Baywarten is in Travelcard Zone 6.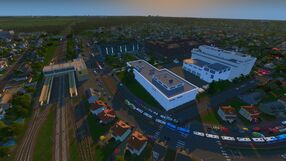 As mentioned before Baywarten is a media town.
Media City Treien
is based at Baywarten which was built in 2009. It holds studios for ICE Network, Royal Ostrobian, Five Network and Percy Media. It competes with Banning in Seblo which is larger than Baywarten and has lots of contracters to make films there.
Baywarten is slowly declining but the new Southwoods Development between Ysytina in Treien and Baywarten allowed the area to be regenerated and revitalised. A billion dollar project is underway to make new shopping centres, new housing and an extension of the Ostrobia Line to Southwoods.
Education
Edit
Baywarten is served by two schools, Baywartern Elementarry which serves Kindergarten to Year 6 and Baywartern High School which serves Year 7 to Year 11. It also has a higher education college, Baywartern Institute for Year 12's and Year 13's