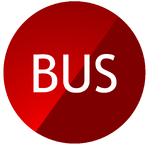 Buses in Treien
are the oldest form of public transport in the city, dating to 1890 at least. Originally, they were referred to as 'Treien Omnibus'. They are run by the
Hudston Bay Transit Corporation
(HBTC).
Current routes
Edit
There are over 250 bus routes in metropolitan Treien, but the most famous are the double-decker buses, which were originally to be phased out mid-1980s, but it was cancelled due to how popular with tourists and locals alike they were.
Bus routes are numbered according to their starting point, from 1-999:
1-49, 107-135, 270-295 are reserved for express services, and CBD locals.
50-99, 136-141, 301-320 are reserved for local services in the south of the city
101-106, 142-154, 296-300 and 321-334 are reserved for local services in the north of the city.
155-186, 256-269, 335-350 and 407-419 are reserved for local services in the east of the city.
187-214, 378-406 and 420-445 are reserved for local services in the west / bay districts of the city.
501-516, 530-542 and 574-589 are reserved for out-boundary operative services.
543-554 and 556-573 are special shuttle services.
555 is the Free CBD Shuttle.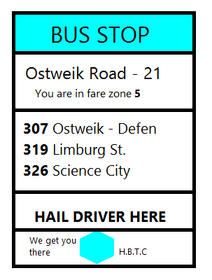 All buses used on the network conform to the Disability Access Act 1998. Some services, most famously the 42, 108, 510 and 578, cross the boundary of the National Territory.
Night Network
Edit
The Night Network of buses that run throughout the night was introduced on 1 July 1981. All Night Network buses are prefixed 'N'.
RailBus services replace Metrolink where needed, they are prefixed 'R'.
Fares operate to HBTC standards.
Example timetable
Edit
Route 268 Timetable, effective October 2013
Time
Stop No.
Info
13:20
29
Leford Village
13:22
28
Ridger Rd at Lein St
13:24
27
Ridger Rd at Hopen St
13:28
26
Ridger Rd at De Cross Ave
13:30
25
Old Haswell Rd
13:33
24
Desfree St at Old Haswell Rd
13:36
23
Dewitt St at Commons Rd
13:38
22
Commons Rd at Royal Park Ave
13:40
21
Castle Hill station
13:44
20
Oaks St at Midland St
13:47
19
Oaks St at Spades St
13:49
18
Treien Hudston Bay Station