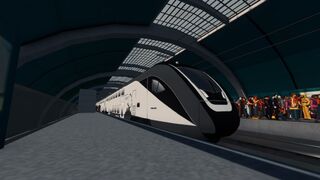 NNW Rail
is a railway line in Treien and the states of New North Wales, Maine and Alnet. The central section and the lines between Helen Hozacky and Elementarron are due to open in 2018, while the extensions to Red Beach is due to open in 2020, completing the North - South route across Treien.
Construction began in 2009, between a central section of the line, a new tunnel through Central Treien and connections to existing lines that will be part of NNW Rail. It is one of Europe's largest railway and construction projects.  
In 2018, the new stations of Ysytina South, Ysytin, Fermantle, Hamlewood (low level platforms), Nieuw-Alkmaarplein, Hudston Bay (low level), Eclesfield-South Manly, New London and Grothengieth opened and by May 2018, services started running across the city.
NNW Rail uses the fifth generation Bombardier Double-decker trains, known as TWINDEXX. The line is the first to use ETCS in a single line in Ostrobia.