New Television
is a commercial TV channel in
Ostrobia
. It is founded in 1982. It operates on channel 5 where 1, 2 and 4 is used by
ICE Network
and Channel 3 is used by
RTV
, making it the fifth channel to operate in Freeview, it is followed by
Channel 6
.
New Television is owned by Justin Vermeer since 2007.
Programming
Edit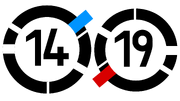 New Television broadcasts two main news segments throughout the weekday,
14
and
19
which features news, current events, sports and weather.
Game shows
Edit
New Television broadcasts several game shows, the most famous being Ring the Bell, where contestants have to do tasks and ring the bell when they've finished these.
New Television aquired the rights for the broadcasting of the Ostrobian National League in 2015.