Treien Stony Stratford Airport
Summary
Airport type
Public
Owner/Operator
International Airports Group
Serves
Treien
Hub for
Focus city for

Virgin Atlantic
British Airways

Elevation
364 ft / 111 m
Website
stonystratford.com
Runways

Naming Direction
Length
Surface
m
ft
07R/25L
5,000
16,404

Asphalt

07C/25C
5,000
16,404

Asphalt

Statistics (2017)

| | |
| --- | --- |
| Passengers | ??? |
| Cargo (t) | ??? |
| Aircraft movements | 475,537 2.7% |
| Economic impact (2016) | $22.3 billion |
Treien Stony Stratford International Airport (IATA: TRE ICAO: EOSS) is the largest airport in Ostrobia, 39th in the world, and 8th in Europe. It served 49'231'331 passengers in 2016 making it the 7th busiest airport in the world. It's also one of the largest airports in Europe by floor space.
The airport opened on November 13, 1977, to replace Baywarten Airport. Originally there was only one terminal. Terminal 2 opened in 1993, and Terminal 3 in 2000. The airport continued to grow and eventually, the decision for a fourth terminal was made.
Terminal 4, after almost a decade of planning and construction, opened February 9, 2013, with the first flight arriving at 11:25 am. It was designed as a modern terminal.
Destinations
Edit
PassengerEdit
Airlines
Destinations
Aegean Airlines
Athens
Aer Lingus
Belfast-City, Cork, Dublin, Shannon
Aeroflot
Moscow-Sheremetyevo
Aeroméxico
Mexico City
Air Algérie
Algiers
Air Astana
Astana
Air Canada
Calgary, Halifax, Montréal-Trudeau, Ottawa, St John's, Toronto-Pearson, Vancouver
Air China
Bejing-Capital
Air France
Paris-Charles de Gaulle
Air India
Dehli, Mumbai
Air Malta
Malta
Air New Zealand
Auckland, Los Angeles
Air Serbia
Belgrade
Alitalia
Milan-Linate, Rome-Fiumicino
All Nippon Airways
Tokyo-Haneda
American Airlines
Chicago-O'Hare, Dallas/Fort Worth, Los Angeles, Miami, New York-JFK
Asiana Airlines
Seoul-Incheon
Austrian Airlines
Vienna
Avianca
Bogotá
Azerbaijan Airlines
Baku
British Airways
Abeerdeen, Dublin, Edinburgh, Glasgow, Newcastle upon Tyne, Leeds/Bradford, Manchester, Inverness, London-Heathrow
Brussels Airlines
Brussels
Bulgaria Air
Sofia
Cathay Pacific
Hong Kong
China Eastern
Shanghai-Pudong
China Southern
Guangzhou
Croatia Airlines
Zagreb
Delta Airlines
Alanta, Boston, Detriot, Minneapolis, New York-JFK
EgyptAir
Cario
El Al
Tel Aviv
Emirates
Duba-International
Ethiopian Airlines
Addis Ababa
Eithad Airways
Abu Dhabi
EVA Air
Bangkok, Taipei
Eurowings
Berlin-Tegel, Cologne/Bonn, Seblo International, Holmes-State
Finnair
Helsinki
Garuda Indonesia
Jakarta
Gulf Air
Bahrain
Iberia
Madrid
Iberia Express
Asturias, Gran Canaria, Palma de Mallorca
Icelandair
Reykjavík
Iran Air
Tehran
Japan Airlines
Tokuo
Kenya Airways
Nairobi
KLM
Seblo International, Amsterdam
Korean Air
Seoul
Kuwait Airways
Kuwait City
LATAM Brasil
Sao Paulo
LOT Polish Airlines
Warsaw-Chopin
LTfly
Aranley-Stratoherra, Alicante, Antalya, Amsterdam, Asturias, Belfast–International, Bilbao, Cagliari, Edinburgh, Glasgow, Hestina City, Holmes State Airport, Holboken, Lanzarote, Ljubljana, Málaga, Munich, Naples, Nice, Palma de Mallorca, Prague, Ramsey-Camberra, Seblo International

Seasonal: Bodrum, Dalaman, Dubrovnik, Geneva, Grenoble, Ibiza, Menorca, Reykjavik–Keflavík, Sofia, Split, Zakynthos

Lufthansa
Frankfurt, Munich
Malaysia Airlines
Kuala Lumpur
Middle East Airlines
Beirut
Ostrobian Airlines
Abu Dhabi, Abuja, Accra, Amman–Queen Alia, Amsterdam, Aranley-Stratoherra, Athens, Atlanta, Austin, Bahrain, Baltimore, Bangalore, Bangkok–Suvarnabhumi, Barcelona, Basel/Mulhouse/Freiburg, Beijing–Capital, Beirut, Belfast–City, Berlin–Tegel, Bilbao, Billund, Bologna, Boston, Brussels, Bucharest–Otopeni, Budapest, Buenos Aires–Ezeiza, Cairo, Calgary, Cape Town, Chennai, Chicago–O'Hare, Copenhagen, Dallas/Fort Worth, Delhi, Denver, Doha, Dubai–International, Dublin, Düsseldorf, Edinburgh, Frankfurt, Geneva, Gibraltar, Glasgow-International, Gothenburg, Gran Canaria, Grand Cayman, Hamburg, Hanover, Helsinki, Hong Kong, Holmes State Airport,Houston–Intercontinental, Hyderabad, Innsbruck, Inverness, Istanbul–Atatürk, Jeddah, Johannesburg–Tambo, Kiev–Boryspil, Kraków, Kuala Lumpur–International, Kuwait City, Lagos, Larnaca, Las Vegas, Leeds/Bradford, Lisbon, Los Angeles, Luanda, Luxembourg, Lyon, Madrid, Málaga, Manila, Mexico City, Miami, Milan–Linate, Montreal–Trudeau, Moscow–Domodedovo, Mumbai, Munich, Muscat, Nairobi–Jomo Kenyatta, Nashville, Nassau, New Orleans, New York–JFK, Newark, Newcastle upon Tyne, Nice, Oslo–Gardermoen, Paris–Charles de Gaulle, Philadelphia, Phoenix–Sky Harbor, Pisa, Prague, Reykjavík–Keflavík, Rio de Janeiro–Galeão, Riyadh, Rome–Fiumicino, Saint Petersburg, San Diego, San Francisco, San José (CA), Santiago de Chile, São Paulo–Guarulhos, Seattle/Tacoma, Seblo International,Seoul–Incheon, Shanghai–Pudong, Singapore, Sofia, Stockholm–Arlanda, Stuttgart, Sydney, Tallinn, Tehran–Imam Khomeini, Tel Aviv–Ben Gurion, Tenerife-South, Tokyo–Narita, Toronto–Pearson, Toulouse, Vancouver, Venice, Vienna, Warsaw–Chopin, Washington–Dulles, Zagreb, Zürich

Seasonal: Almeria, Biarritz, Brindisi, Chania, Corfu, Faro, Figari, Ibiza, Grenoble, Kefalonia, [69] Kos, Kalamata, Mahé, Montpellier, Murcia, Mykonos, Nantes, Olbia, Pula, Salzburg, Santorini, Split, Turin, Zakynthos

Oman Air
Muscat
Pakistan International Airlines
Islamabad, Karachi
Philippine Airlines
Manila
Qantas
Dubai–International, Melbourne, Perth, Singapore, Sydney
Qatar
Doha
Royal Jordanian

Amman

Saudia
Jeddah, Riyadh
Scandinavian Airlines
Aranley-Stratoherra, Copenhagen, Oslo–Gardermoen, Stockholm–Arlanda
Singapore Airlines
Singapore
South African Airways
Johannesburg
SriLankan Airlines
Colombo
Swiss
Geneva, Zürich
TAP Portugal
Lisbon
TAROM
Bucharest–Otopeni
Thai Airways
Bangkok–Suvarnabhumi
Turkish Airlines
Istanbul–Atatürk
United Airlines
Chicago–O'Hare, Houston–Intercontinental, Los Angeles, Newark, San Francisco, Washington–Dulles
Vietnam Airlines
Hanoi, Ho Chi Minh City
Virgin Atlantic
Atlanta, Boston, Delhi, Dubai–International, Hong Kong, Johannesburg–Tambo, Lagos, Los Angeles, Miami, New York–JFK, Newark, San Francisco, Seattle/Tacoma, Shanghai–Pudong, Washington–Dulles
Controversies
Edit
Noise Pollution
Edit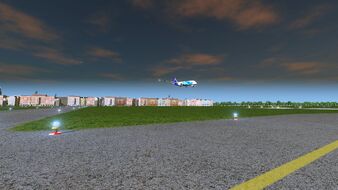 Treien Stony Stratford Airport is the biggest contributor to noise pollution in southern Treien. Residents around Oldham, Stony Stratford, Kreybord-Washington, Yistikal, Trading Estate and Rechtdaai complained about the amount of noise pollution in Stony Stratford Airport as the flight path for landing in both runways crosses apartment housing around the area.
Treien Stony Stratford was built in a former air base and a former industrial park, however rapid urbanisation around the area made Stony Stratford Airport no longer feasible, hence why Treien Athberg Airport was built, but passengers and airlines disliked Athberg due to its location away from the city and its lack of facilities. Treien Stony Stratford now complies with a curfew system and paies the City of Treien and the LGA's of Stony Stratford, Oldham and Kreybord-Washington noise tax.